Description:
Baldi's Basics in Custom Night is an interesting horror game that is highly recommended for all fans of the FNAF series. Download it for free here and enjoy its greatness.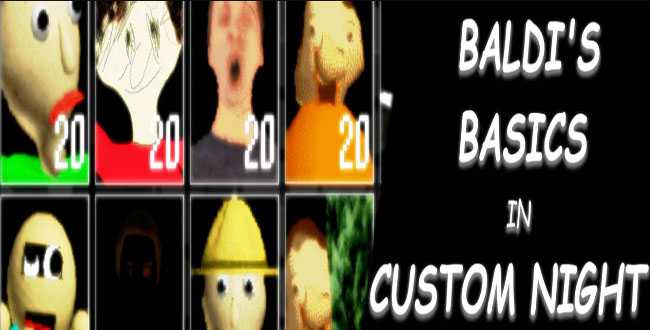 It is actually a wonderful combination of the original FNAF game and Baldi's Basics in Education and Learning. If you are a fan of these two games, you should not miss the game for any reason.
STORY
The game brings you to fall deeply into a story taking place in an old school. You work as a watchman at this school and take responsibility for the night shift. You need to check the security camera to make sure everything is proper. Nevertheless, you unexpectedly realize something weird happening around the old school during the night.
The game comes along with 19 characters in total. At the beginning of the game, you will be provided information about each robot about their behavior and how to make them go away. For example, Baldi will come out in the left hall and enter your office. Please close the door immediately if you see him.
FEATURES
Many interesting mini-games
A total of 19 different characters coming with their unique mechanics
A lot of challenges, secrets, mysteries, etc.
Download Basics in Custom Night for free without any hesitation and enjoy it right now.
Screenshots