Description:
Five Nights At Baldi's Nightmare Edition (OFFICIAL) is a survival horror game featuring nightmarish animatronics. You fight against them for your survival.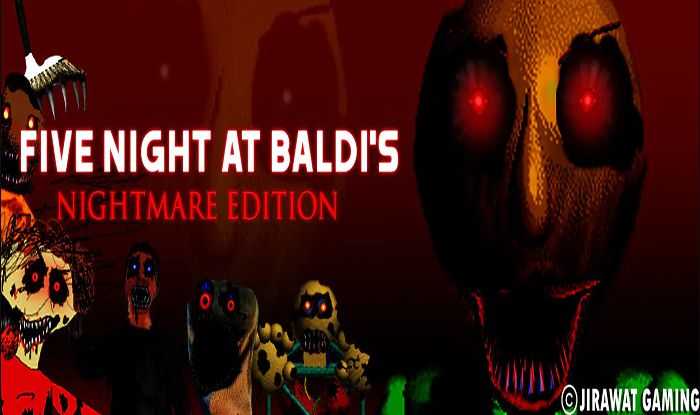 About game
This fan-made game is the nightmarish version of Five Nights at Baldi's. These titles are based on Five Nights at Freddy's by Scott Cawthon. You take on an adventure where you must defeat animatronics before they defeat you.
According to the author of the game, he modified the in-game elements to Nightmare, giving you a creepy experience. Hence, you are recommended to give this game a try because you can express your survival skills as you play it.
The elements the author modified in this title are diverse. However, they center on animatronics. In the original version, you may have played with animatronics such as:
Baldi's
Playtime
Principle
Bully
Gotta Sweep
Arts and crafters
Golden Baldi's
1st Prize
Now, the game has the animatronics with the Nightmare versions such as:
Nightmare Baldi's
Nightmare Playtime
Nightmare Principal
Nightmare Bully
Nightmare Gotta Sweep
Nightmare Arts and crafters
Nightmare Golden Baldi's
Nightmare 1st Prize
Those elements aim to make the game creepier. They also add more uniqueness to the game, which makes it different from the original game.
Your mission is to watch over those animatronics through the cameras to make sure they will not jumpscare you. Try to survive the nights then you will win.
Five Nights At Baldi's Nightmare Edition (OFFICIAL) is free to download and ready to challenge your survival skills.
Screenshots